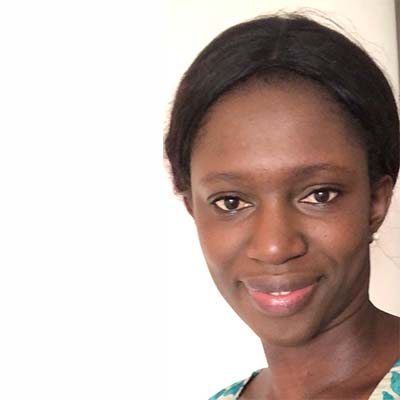 Fatoumatta Jaiteh is a Medical Doctor by profession, working at the Edward Francis Small Teaching Hospital. She has five (5) years post graduate experience in the medical field and more than ten (10) years of experience in community service; voluntarism and has been focusing on sensitiza-tions and screening of non-communicable diseases in her community, where thousands of less privileged people were attended to from different communities in The Gambia. Many conditions were diagnosed through Clinical and laboratory findings and treatments were given and some re-ferred to the teaching hospital for the appropriate management. Some of the cases have been suc-cessfully operated on through these community outreaches. She is also involved in mentorship pro-grams where she mentors young ladies on career path development, guidance and counseling.
She is an alumna of the Young African Leaders initiative (YALI), from the Regional leadership Centre (RLC), Accra, Ghana. She is a strong advocate for girls/women empowerment and women health. She is also interested in cancer prevention in women, where she is involved in sensitization on screenings for early detections pf cancers for early treatment. She believes that empowering a woman is the key to solving our generation's problems.
Fatoumatta became a member of Prospect for Girls because of their vision. It's here to uplift every less privileged girl in the society and this is what she has always wanted. The dynamism in the team, the degree of willingness and hard work makes it happen and lots of lives have been affect-ed.