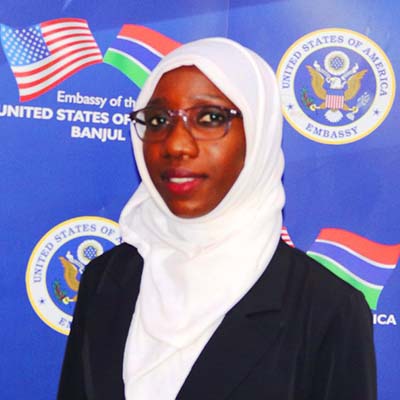 Co-Founder & Program Manager
Fatoumatta Kassama has over seven years' experience working as a Nurse for the Ministry of Health of The Gambia. She is a Registered Nurse, Ophthalmic Medical Assistant and holds a bachelor's degree in Nursing and Reproductive Health from The University of The Gambia. Fatoumatta is the Co-founder and Program Manager of Prospect for Girls.
Fatoumatta is a 2017 Mandela Washington Fellow, 2018 One Young World Ambassador and Delegate Speaker, 2018 Opec Funds for International Development Scholar, 2019 Obama Foundation Leader, 2019 World Youth Forum Delegate, 2019 Tony Elumelu Entrepreneur, 2019 TAF-Africa Foundation Start-up entrepreneur, 2020 African Presidential Leadership Program Alumni, and the Vice President of the Association of Gambian Nurses and Midwives.
Fatoumatta is passionate about health equity, women empowerment, quality education, disability issues and entrepreneurship.