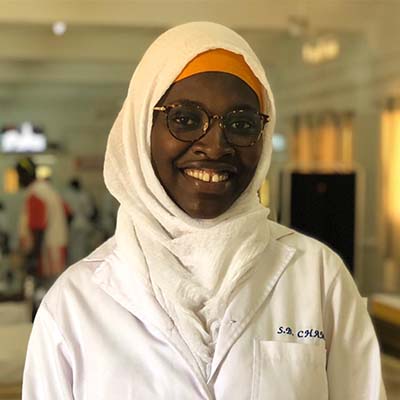 Sainabou is a Registered Nurse-Midwife of over seven years of experience currently in her final year pursuing a BSc in Nursing and Reproductive Health at UTG. As a passionate young health practitioner, she most recently served as the Officer-in charge at Bureng health Centre in LRR. She is passionate about improving the health status of people in The Gambia particularly on maternal and child health. Sainabou is a Mandela Washington fellow 2019 and was placed at Syracuse University, New York.
Sainabou has a long history of serving as a health volunteer. She served as the Treasurer of the National Association of Gambian Nurses and Midwives from 2014-2018.Due to her passion for nursing education, Sainabou serves as a guest lecturer and examiner at the school for community Health Nursing in Mansakonko, LRR.
She is currently the media relations officer at Prospects For Girls and was actively involved in the Women's health campaign were over a thousand girls were trained on menstrual hygiene and sexual reproductive health issues.